Disney Channel Original Series
A seventh-grade misfit, played by pre-"Transformers" Shia LaBeouf, struggles to find his niche both in school and in his seemingly perfect family. He does his utmost to infuriate his overachieving older sister, Ren, and is frequently involved in disastrous escapades, from which his best pal Alan us
ually rescues him.
Enter the world of Lizzie McGuire at your own risk, a world where the 13-year-old and her best friends Miranda and Gordo ride the roller-coaster existence of a middle schooler. Every day is a popularity contest, every class is a crisis and on top of everything else, Lizzie has to deal with her annoying little brother, Matt, and a mom who means well despite her nosey tendencies. You always know what Lizzie is thinking, and if she can't quite say it, you can be sure her animated alter ego will.
Fourteen-year-old Penny Proud is growing up! She's trying to gain her independence and faces typical teenage experiences in junior high. With the help of her parents, Trudy and Oscar, and her grandma, Sugar Mama, Penny faces all sorts of comical events.
Kim Possible looks like an average high-school cheerleader, but in her spare time, she saves the world from supervillains. Her buddy, Ron Stoppable, his pet Rufus, and a resourceful webmaster named Wade collabotrate on secret missions and can do anything. When she's not defeating the bad guys, Kim s
till has to cope with typical pressures of school, family and social life.
No ordinary teenager; Raven Baxter can see glimpses of the future! Watch her schemes and misadventures as she enlists the help of friends, including best friends Eddie and Chelsea, to change life's little outcomes. Raven's younger brother, Cory, is obsessed with money and creates get-rich-quick sch
e
mes to try to earn cash.
Picking up where the 2002 Walt Disney movie hit left off, this animated series chronicles the further adventures of renegade scientist Dr. Jumba Jookiba's beloved Experiment 626, who is now living happily as Lilo's alien buddy Stitch. The previous 625 experiments become activated when submerged in w
ater and, like Stitch, each experiment has its own terrible talent. Lilo and Stitch's mission is to catch Stitch's cousins before they fall into the clutches of wrongdoers and redirect them to live productively.
Dave is a teenage Barbarian, trying to protect the land of Udrogoth, along with his sisters Fang and Candy, while their parents are away fighting evil. Dave would rather be cooking, Fang wishes she were boss and could take over Udrogoth herself and Candy always has something smart to say.
The Diffy family left on vacation from the year 2121 but their rented time machine malfunctioned and they were thrown into the year 2004. Now Lloyd, his part-robotic wife Barbara, and his kids Phil and Pim, are forced to pretend to be a normal family in suburban Pickford. Phil befriends Keely Teslo
to keep their secret and together the siblings deal with school, bullies and homework without getting found out.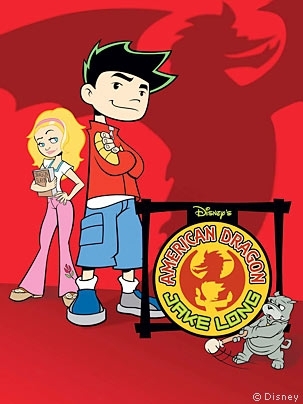 Jake is keeping a secret from his teachers and classmates — he's a descendant of dragons! Still facing all the normal pitfalls of being 13, Jake is also in secret training to become the first American Dragon. With the help of Grandpa Lao Shi and 600 year-old Fu Dog, Jake seeks to protect all the ma
gical creatures living amongst humans in Manhattan. Always on a skateboard, Jake befriends unicorns, leprechauns, and mermaids while aspiring to fulfill his Chinese-American heritage.
Life is sweet — or at least suite — for identical teenage twins Zack and Cody Martin after their mom, Carey, lands a job headlining at the five-star Tipton Hotel in Boston, which comes with an upper-floor suite. From that new roost, the twins turn the hotel into their playground, although the pran
ks are usually instigated by girl-obsessed Zack, not the more mature and intellectual Cody. When her schedule permits, the boys are "handled" by Maddie Fitzpatrick, the teenage candy-counter girl who also is the somewhat unlikely best friend of spoiled London Tipton, the daughter of the hotel's owner.
Young Kuzco looks forward to becoming emperor — until he learns that to actually ascend to the throne, he must pass every class and graduate from public school. Banished from the royal palace and living with strangers, Kuzco learns the importance of friends and family.
Although she appears to be just a typical teenager to most of her classmates and teachers, Miley Stewart lives a double life,
transforming herself into famous pop singer Hannah Montana at night. Her secret identity is known only to her family and closest friends.
Two orphans, Riley and little brother Todd, answer an ad for Fleemco Replacement People and order new parents, a spy mother and daredevil father. As Riley and Todd go on adventures (or misadventures as it were), they team up with Conrad Fleem to replace any adult in their lives that they don't like
but they don't get to choose the replacements and sometimes their good intentions don't work out as they planned. Among the show's voice cast are veteran voiceover artists Nancy Cartwrigth and Kath Soucie.
Since his dad, Victor, was named head chef to President Martinez, Cory Baxter now lives in Washington, D.C. Cory shares the staff quarters of the White House with his father and attends an exclusive private school. The president's young daughter, Sophie, is very clever for her age and likes to meddl
e. Meena, an ambassador's daughter, and Newt, heir to a political dynasty, become Cory's new friends.
Phineas Flynn and his stepbrother, Ferb Fletcher, are determined to make every day of their summer vacation fun. They try building a full-scale roller coaster, becoming musicians, building a backyard beach, and traveling back in time to meet dinosaurs. Their family pet, Perry the Platypus, doubles a
s a secret agent and battles evil. Meanwhile, older sister Candace is tattling on them to Mom and Dad, though she can never seem to catch them in the act.
Alex Russo and her brothers Justin and Max come from a long line of wizards and now must master their newly learned powers or lose them forever. Their dad, Jerry, gave up his powers when he married their mortal mom. The family business is Waverly Sub Station in busy Manhattan, and the three young wi
zards get into all sorts of crazy situations as they grow up facing typical teen challenges like school, friends, family and magic.
Sonny Monroe, a teenager from Green Bay, Wis., moves with her mom to Los Angeles when she is chosen to join the cast of her favorite TV show, a sketch comedy series called "So Random." It's not all a fairy tale, as she deals with her diva co-star Tawny, and the friction between the cast of her show
and a rival network show called "MacKenzie Falls." But she keeps her head up and a smile firmly in place as she tries to make everything turn out OK.
Teens PJ and Teddy and tween brother Gabe are typical kids — that is, until their mother has another baby. The arrival of their new sister completely upends the entire household. When their mother heads back to work after Charlie's birth, it's up to the kids and their dad to keep the home fires bu
rning — and to keep Charlie out of trouble as she learns to sit up, crawl, walk and run. Teddy, as the older sister, makes a personalized video diary for Charlie, in each episode adding a nugget of wisdom for her baby sibling.
Best pals CeCe and Rocky dream of dancing stardom. And they seem on the verge of realizing that goal when they win places as backup dancers on the local TV show "Shake It Up, Chicago." While they get to show off their moves, they find out they need to keep putting their best feet forward to keep up
with the rest of the crew on the show.
Some might describe "A.N.T. Farm" as "Glee" for the Disney crowd. It features young music prodigy Chyna Parks, who attends high school as part of an Advanced Natural Talents (A.N.T.) program. Chyna and fellow A.N.T. participants Olive and Fletcher must make the most of their high school experience,
despite the decidedly lukewarm welcome from their fellow students, including Chyna's older brother, Cameron.
"Jessie" is your typical fish-out-of-water story. Jessie is a small-town teen who leaves her Texas roots to take a job as a nanny for the Ross family's four precocious kids in New York. Heading the family are the parents: supermodel-turned-business mogul Christina and movie director Morgan. The olde
st of the four children, teenager Emma, is the only biological child of the bunch. Her three brothers and sisters are all adopted — American adoptee Luke, Indian adoptee Ravi and African adoptee Zuri. While watching four kids can be challenging for a teenager, Jessie has help in the form of the family's butler, Bertram, and the building's 20-year-old doorman, Tony. Adding to Jessie's challenging task is the family's pet, a 7-foot Asian water monitor lizard.
"Austin & Ally" follows the exploits of the title characters, polar opposites who combine their talents to try to create a musical tour de force. Austin is an extroverted musician and singer. Ally is a brilliant, but shy, songwriter. Austin and Ally's best friends are Trish and Dez, respectively. Wi
thout Ally's knowledge, Austin and Dez "borrow" one of her songs, make a music video out of it and post it on the Internet. The music video catapults Austin into an overnight sensation. But when Trish tries to convince Ally to let people know she wrote the song, Austin pleads with her to write him another song that he can turn into a hit. And that begins their musical collaboration as they try to profit from Austin's newfound fame.
Twins Dipper and Mabel Pines are sent to spend the summer with their great-uncle, Grunkle Stan, in the mysterious town of Gravity Falls, Ore. Grunkle Stan has the kids help him run The Mystery Shack, the tourist trap that he owns. The twins try to adapt to the weird surroundings but sense there is s
omething strange about Gravity Falls and begin to unlock its secrets. When Dipper uncovers a cryptic journal that offers insight into the town's mysteries, he and Mabel use it and their enthusiastic desire to vanquish evil to battle the imminent mysteries that surround them.
"Dog With a Blog" is a sitcom that is told from the pup's perspective. The show is about a newly blended family led by parents Bennett and Ellen, whose kids — Tyler, Avery and Chloe — are trying to adjust to life as stepsiblings. Tyler and Avery are typical teenagers and are slowly learning to com
municate with each other. When they discover a secret about the family's recently adopted pet dog, Stan, they decide to keep it a secret — even from their parents. What is Stan's secret? He talks and blogs. Complicating their attempt to keep the secret is younger sister Chloe, who thinks it's normal to have a talking pooch after she overhears him. But thankfully the parents just chalk it up to Chloe's overactive imagination. As for Stan, he has a knack for getting himself, Tyler and Avery into sticky situations, which helps teach the kids how important family is and how much they need to work together to keep Stan's secret safe.
Liv and Maddie Rooney are identical twins who have been leading different lives for the last few years. Maddie is a high school basketball phenom in Wisconsin who prefers high tops to high heels. Cool, confident social butterfly Liv has been in Hollywood for the past four years starring on a hit TV
show. When Liv returns home and the girls share a bedroom, Maddie quickly realizes that it's not easy sharing a small space with a sister who has become accustomed to being in the spotlight, for Liv inserts herself into situations when she thinks Maddie needs help. Despite their antithetical personalities and aspirations — but with an unbreakable bond — they are able to accomplish pretty much anything they try.
From 1993 to 2000, viewers followed the relationship of Cory Matthews and Topanga Lawrence-Matthews on "Boy Meets World." More than a decade later, the couple's daughter, Riley, is trying to navigate her 'tween years — and problems that go with them — especially in regard to bonds with family and
friends. At John Quincy Adams Middle School in Manhattan, Riley finds being a student more difficult because her dad is a history teacher there, and she's in his class. Her mom, a lawyer, is involved in her social life and owns a trendy teen hangout. Among Riley's classmates are best friend Maya, crush Lucas, and quirky Farkle, son of Cory and Topanga's peer Stuart Minkus.